This is a country of hyperbole and extremes and yet it also manages to be the ultimate destination for a relaxing vacation
The Kingdom of Thailand is a country on the Indochina Peninsula of Southeast Asia with a population of over 67 million. Thailand is one of the most popular tourist destinations in Asia and when you spend some time there it is easy to see why. It is a beguiling country that can feel at times like a bit of a hedonistic whirl and can leave your head spinning. The assault on the senses can be thrilling, but Thailand is not all about this flashy and fast-paced tourist image head out just short distances from the major cities and resorts and you will find a country with plenty of relaxed pastoral charm and oodles of serene natural beauty to enjoy. This is the calm everyday life still lived by many Thai people, who have retained their Buddhist faith and strong cultural identity in spite of the tourist deluge.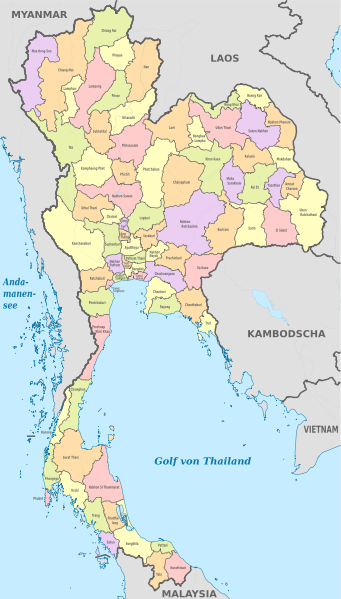 Thai people smile a lot. They are friendly and obliging. You will also find that Thailand is an extremely welcoming place and the people will usually go out of their way to make sure that you enjoy your stay. As well as many of the attractions that spring from the glorious and unspoiled culture of the place.
History lovers will be fascinated by the ancient religious sites, former capitals, and other ruined antiquities that are found in abundance throughout the country, while those seeking spirituality will certainly find it in this country where more than three-quarters of people are still practicing Buddhists. You are unlikely to be able to visit all of the many temples here during your stay but a visit to some of the most highly esteemed examples is one of the country's essentials. Their gilded and brightly colored finery can dazzle and inspire intense spiritual awe. But perhaps you may find, as others have before you, that the life-changing and deeply spiritual moments that you experience here come from the almost unbelievably beautiful and awe-inspiring natural wonders that you will encounter here.
From the islands, sandy beaches, and idyllic Andaman Sea and Gulf of Thailand to the south, to the lush dense jungles and the mountains of the north, the Thai landscape inspires awe with every sun-drenched vista. While some places are very much the epitome of the mass tourism industry, there are still plenty of hidden gems where you can almost feel that you are the first to discover their magical charms. The Thai islands, for example, very much offer something for everyone, from the hedonist's heaven on some of the party-oriented islands, to family-friendly, picture-perfect resorts, to idyllic island escape that offer solitude and serenity in spades.
Those in tune with the natural world and those who wish to become more so will also find exactly what they are looking for in this amazing country. North of the beach resorts, north of the bustling city of Bangkok, the less-heavily visited the north of the country offers many more natural wonders – forest treks beneath monkey-clad trees, elephant rides through Khao Yai National Park or down rivers in lush valleys take you to some of the more remote regions of the country. In the mountains, more hikes, bike rides, or a myriad of other tour options will take you on the verdant slopes between delightfully unspoiled mountain villages, nestled in the landscape.
Those who enjoy an active holiday will be spoiled for choice. Adventure abounds in Thailand. Everything seems to be on offer – from gentle hiking and biking trips to suit all ages, preferences, fitness levels, and abilities, to more adrenaline-fuelled or intrepid pursuits. Those who like the water could participate in canoe or kayak excursions on rivers or on the sea, go on a river rafting trip, or try a host of water-sport activities at one of the country's beach resorts. You could peer beneath the sea on a snorkeling excursion or dive deep beneath the blue. You can explore ancient caves, abseil down waterfalls, try rock climbing and rappelling or whoosh down a zipline through the jungle canopy. You could even take to the skies in a hot air balloon ride, or plummet back down towards the earth on a skydiving adventure of a lifetime. The opportunities for adventure in Thailand are almost endless! This country manages to at once live up to its image and simultaneously surpass all your wildest expectations. This is a country of hyperbole and extremes and yet it also manages to be the ultimate destination for a relaxing vacation. Thailand always retains the capacity to surprise and delight, which is perhaps how it manages to be all things to all people and still retains its mysterious and magical edge